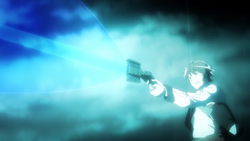 "A shot from this will forcibly crash all of a Giftia's functions."
―Sherry
A Virus Data Gun is a device used by the Terminal Service department to take down a Giftia who has turned into a Wanderer. It can only be used by Spotters.
Although it may seem like a normal gun, it does not shoot bullets but instead shoots a "rain" of virus data on the target. It is also known as a software destruction program. After a Giftia has been shot by the virus data, it is impossible for them to recover from it. Given its nature, Spotters such as Yasutaka consider the gun to be an "emergency last resort".
Effects
Once a Wanderer has been shot, all of its programming is destroyed and its memories are immediately erased. The Virus Data Gun also physically disintegrates parts of a Giftia.
While it has been stated that the device poses no risk to humans, it is unclear if any Giftia that is targeted by the gun's beam, regardless of being a Wanderer or not, will be affected by the virus that it shoots.